Restoration, Blueprinting, Building & Design
Modern and Vintage Automotive Motorcycle and Racing Engines
Porting, Testing and Machining of Modern and Vintage Cylinder Heads
Team 415 at Bonneville 2013
Don with 1931 FWD Ruxton at Pebble Beach
At Bonneville 2013
Steve and Jeannie Nelson Bonneville 200 MPH Club                      
Where machines are a spiritual journey
The Art of Air Flow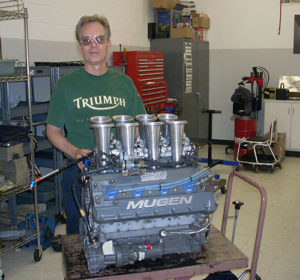 Our Mission is to create the finest in goods and services, in the Old World tradition.
Replika Maschinen Inc. is a family-owned business based in Watsonville, California, with more than 41 years of professional racing, mechanical, and machining experience.
We specialize in repair, restoration, machining design and assembly of vintage and modern high performance and racing engines.
We have 35 years of four- and two-stroke air flow cylinder head and related components experience, such as: porting, air flow and combustion efficiency, research and development consultation and design of automotive, motorcycle and diesel components and engines.
"I wish I knew you when I rode for the Japanese"
Safe to say Don is a bad dude. Jordan kicked butt on the KTM motor!
The best place that i know of to get head worked on. Dale with his long history in the industry he knows what he's doing and is very friendly. He doesn't come off arrogant or condescending and is willing to spend the extra time to make sure you're know what you want and what you'll be getting.
I absolutely love his port and polish job and it's apparent that it's good. Mazdaspeed sends their stuff to him to get it worked on. He also does motorcycles and thermal coating. Definitely the only place I'll trust with my head.